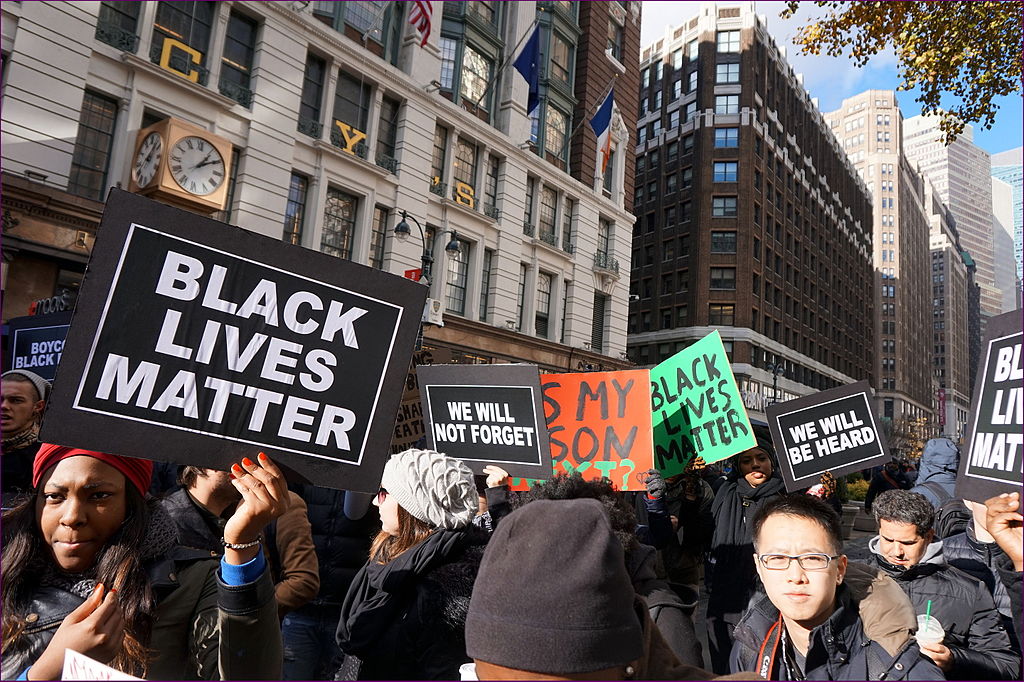 12 Jun

Digital Evidence & The Black Lives Matter Movement

[Sarah Zarmsky is a researcher in international law with an interest in the impact of digital technologies on human rights. She received her LLM in Public International Law from Leiden University and her BA in Psychology from Brandeis University.]

Though the Black Lives Matter (BLM) movement has been around for years, it has recently reached an unprecedented level of visibility worldwide. While the accomplishments of the BLM movement can only be attributed to the hard work of the people themselves, technology has played a role in helping bring the protests into the public eye and in documenting repeated instances of police brutality. The author wants to make it clear that this article is not meant to discredit or criticize the work of civil rights activists prior to or without the use of technology–it is without doubt that individuals who have spoken out against racial inequality have been and will always be the reason for change. This article is meant to help raise awareness about ways to use technology to document evidence and hold perpetrators of racial violence accountable.

On 25 May 2020, Minneapolis white police officer Derek Chauvin brutally murdered an innocent black man, George Floyd, by kneeling on his neck for approximately nine minutes while he was handcuffed and held on the ground. Three other officers on duty–J. Alexander Kueng, Thomas Lane, and Tou Thao–stood by and watched.

Regrettably, the murder of George Floyd was not the first racially motivated incident of police brutality in the United States, and since more and more videos have surfaced online depicting officers attacking protesters nationwide, it is clear that it also has not been the last. After an (unacceptable) number of days since Floyd's death, the state of Minnesota finally charged all four officers in connection with his murder. Going forward, one can assume that the video footage of the murder will be used as evidence against the officers in court, which demonstrates the importance of technology in pursuing accountability for this case and likely other similar instances which have yet to be prosecuted.

On this note, digital technologies have placed the BLM movement in conflicting circumstances–on one hand, state surveillance has the potential to be used in retaliation against protestors, which is why some groups have posted about the importance of wearing non-identifiable clothing and covering up as much as possible at rallies. On the other hand, technology has both given supporters of the BLM movement a louder, collective voice that has reached all areas of the globe, and the ability to easily record footage of police brutality, circulate this information, and demand accountability. Additionally, besides 'naming and shaming' and raising awareness, evidence recorded at protests has allowed open source investigators, such as those at Bellingcat or the New York Times Visual Investigation Team, to use digital verification tools to identify violent officers. This body of digital evidence has been and will continue to be integral in achieving justice for the black community and allies alike.

However, it is important to remember that technologies such as smartphone cameras and social media were not necessarily developed for courtroom use, and therefore it is necessary to take steps to ensure that the footage captured can ultimately be used to place officers behind bars. For example, in the United States, a general principle is that evidence must be authentic and reliable. This is reflected in the Federal Rules of Evidence–for instance, Article IX provides for the ways in which evidence can be authenticated, and to satisfy this requirement, 'the proponent must produce evidence sufficient to support a finding that the item is what the proponent claims it is'.

On this note, traditionally, electronic evidence needed to be authenticated through corroborating witness testimony. However, in 2017, the Federal Rules of Evidence were amended to include data copied from an electronic device as 'self-authenticating' evidence. In simpler terms, this amendment is important because it makes it much easier to introduce digital evidence during trial provided the required data is available, since a witness is no longer needed to testify as to the authenticity of the evidence. The law provides that, for instance, data copied from electronic devices can be authenticated if an expert provides certification that the 'hash value' of the file matches the original 'hash value' of the version on the device. The 'hash value' of an electronic file is part of its metadata, which is stored on the original recording device whenever a photo or video is taken.

Aside from domestic law, rules pertaining to the use of electronic evidence in international courts may also be relevant if any proceedings are (however unlikely) initiated against the United States or higher-level officials at the international level. Digital evidence has been introduced in international courts and tribunals such as the International Criminal Tribunal for the Former Yugoslavia (ICTY), the Special Tribunal for Lebanon (STL), and the International Criminal Court (ICC), but also only if it is proven to be authentic and reliable. For more information, see for instance the work of the Human Rights Investigations Lab at UC Berkeley, or Sam Dubberley, Alexa Koenig and Daragh Murray (eds) Digital Witness: Using Open Source Information for Human Rights Investigation, Documentation, and Accountability.

To connect this back to the BLM movement, these legal considerations are especially relevant if we want the footage of police brutality to be able to be easily used to hold officers accountable at trial. When someone goes to a protest and, for instance, films an officer assaulting a protestor, typically the video is uploaded and circulated around the internet. While this is an effective way to raise awareness about police brutality and to 'name and shame' the perpetrators, most times, when a video is uploaded to social media or sent to someone else over a messaging app, the original metadata is wiped out. Further, if something were to happen to the original recording device or should the file somehow get deleted, this metadata would be lost forever if not uploaded to a secure database which saves the information. Without the metadata, there is a greater risk that the footage would not be successfully admitted in future criminal proceedings because it would require accompanying testimony of the person who filmed it and others present at the event, for example.

It is also important to consider the fact that when trying to establish guilt beyond reasonable doubt in a court of law, the judges and/or jury need to be certain that any photos or videos used as evidence against an accused have not been manipulated or altered in any way. This makes it crucial for attorneys to be able to establish that the footage is genuine and depicting what it is alleged to portray. This is most easily accomplished when the original file from the original device is used, or if the metadata is available to show elements such as the time, place, and 'hash value' for the photo or video. If neither the original file nor the metadata is available, duplicates can still be used, but are verified through longer open-source investigation processes which will be discussed below.

Due to the extreme importance of the success of the BLM movement, it is critical that everything possible is done to ensure that officers committing heinous acts are held accountable. Thus, what citizens can do to help support this quest for justice is to take some easy steps that will ensure the photos and videos taken on smartphones and other devices are both captured and stored in a way that helps establish their authenticity in a courtroom.

Some very helpful resources on preserving this type of digital evidence have already been developed and published with the aim of helping journalists and human rights organizations, but can definitely be used in similar ways to help those fighting for racial equality. These include, but are not limited to:

Generally, these resources emphasize similar points–including the importance of recording events in a way which can be easily verified, and preserving evidence so that metadata is not lost. For instance, when recording instances of police brutality at protests, it is advisable to hold the camera horizontally to encapsulate as much of the area and surrounding landmarks as possible, so that should the metadata attached to the video be lost, investigators could easily verify the time and place of the incident from contextual clues. In addition, it is important to preserve the evidence in its original form–i.e., to always save the original version apart from those sent via messaging services or uploaded to social media. This can easily be done automatically through the use of tools such as the CameraV or eyeWitness smartphone apps.

Presumably, digital evidence will only become more and more useful to holding individuals and states accountable for human rights violations, as evidenced by movements like BLM and also those for justice in other areas of the world such as Hong Kong or Venezuela. In the meantime, until prosecutions against perpetrators begin, it is critical that we educate ourselves on how to preserve evidence in the best way possible so that it can ultimately be used to place those responsible behind bars.

In addition to using the aforementioned resources to collect evidence, supporters of the BLM movement can also help by donating to organizations dedicated to achieving justice. A comprehensive list of some places to donate to can be found here.

Topics
Courts & Tribunals, Featured, General, International Human Rights Law, Organizations