20 Dec

Addendum to Goodman: Saudis Haven't Promised to Stop Using Cluster Munitions

The inestimable Ryan Goodman has a new post at Just Security listing all the times the Saudis denied using cluster munitions in Yemen. As Ryan points out, we now know that those denials were what I like to call "shameless lies" (emphasis in original):
On Monday, British Defense Secretary Michael Fallon told the House of Commons that following the UK's own analysis, the Saudi-led coalition has now admitted to using UK manufactured cluster munitions in Yemen. Mr. Fallon heralded the "transparent admission" by the coalition, and added, "we therefore welcome their announcement today that they will no longer use cluster munitions." Many news outlets ran a headline focused on the Saudi-led coalition's statement that it would stop using cluster munitions in Yemen (including Al Jazeera, Fox, Reuters, UPI).

Lost in the news coverage is the Saudi-led coalition's  consistent pattern of denial of using cluster munitions.

So, let's take a walk down memory lane. At the end, I will discuss the significance of this pattern of denial for future policy options on the part of the United States and the United Kingdom.

At the heart of Monday's revelations were allegations of the use of cluster munitions by Amnesty International, and here's a key point: Riyadh previously assured the UK government that it had not used cluster munitions in response to Amnesty's allegations.
Ryan's post is very important, particularly its discussion of how Saudi Arabia's admission could affect the US and UK. I simply want to point out something that also seems to have been lost in all the media coverage: Saudi Arabia did not promise to stop using cluster munitions in Yemen.
No, it promised to stop using British-made cluster munitions in Yemen. From Al Jazeera:
"The government of Saudi Arabia confirms that it has decided to stop the use of cluster munitions of the type BL-755 and informed the United Kingdom government of that," said the Saudi statement, carried by state news agency SPA.
If Saudi Arabia only had BL-755 cluster munitions, its announcement today might be meaningful. But we know from investigations conducted by Human Rights Watch that Saudi Arabia has also used US-made cluster munitions in Yemen, particularly the CBU-105 Sensor Fuzed Weapon: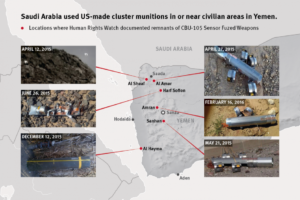 Nothing in the Saudi statement rules out continuing to use American-made cluster munitions in Yemen. Only British ones are off the table. And if you believe that I am parsing the statement too carefully — well, I'd suggest reading Ryan's post. Saudi Arabia cannot be trusted to tell the truth about the brutal UK- and US-backed counterinsurgency it is waging in Yemen. Full stop.

Topics
Uncategorized