04 Nov

My Talk on the ICC's Investigation into the Situation in Georgia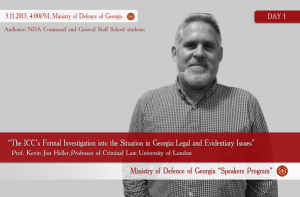 I'm in the middle of a week-long trip to Georgia, where I'm giving nine lectures in five days to the military and university students. (Thanks, Anna Dolidze, Deputy Minister of Defence and friend-of-OJ!) I'm talking about perfidy a couple of times, but most of the lectures — not surprisingly — are about the OTP's request to open a formal investigation into the situation in Georgia. I've greatly enjoyed the lectures I've given so far, at Free University Tbilisi and at the Ministry of Defence. The questions have been uniformly intelligent and challenging. Today I'm heading to Gori to give lectures at the National Defence Academy.
In any case, a reader emailed me and asked whether I could send her the notes of my talk and the accompanying PowerPoint slides. I was happy to oblige, and I thought I might upload both to Opinio Juris, in case anyone else would like to see them. The notes are here, and the accompanying PowerPoint slides are here.
Topics
Courts & Tribunals, Foreign Relations Law, International Criminal Law, International Human Rights Law