27 Aug

Dear News Agencies of the World: China Did NOT Breach Taiwan's Airspace, Just Its ADIZ

Several news agencies (here and here) have suggested that recent reports of Chinese military aircraft entering into Taiwan's Air Defense Identification Zone  is akin to a territorial incursion.  For instance, J. Michael Cole warns at the Diplomat, "If they were indeed intentional, the latest intrusions could signal a further denigration of Taiwan's sovereignty…."  In my view, calling ADIZ intrusions a breach of "airspace" and a denigration of "sovereignty" overstates the significance of an ADIZ under international law.

Taiwan's own government has used the phrase "airspace", so reporters can't be faulted for repeating this phrase. But legally speaking, entering an Air Defense Identification Zone is NOT the same as entering a nation's territorial airspace.  For an island like Taiwan, such territorial airspace would presumably start  end 12 nautical miles from its relevant island coast.  An ADIZ is usually a much larger zone declared by countries in order to allow them to track and identify aircraft that come near their territorial airspace.  If you look at Taiwan's ADIZ  (in red), you'll notice it goes well beyond 12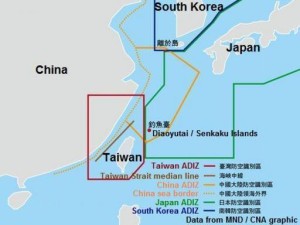 nautical miles from Taiwan's coast (in fact, it technically stretches into China itself!).  An ADIZ is adjacent to a nation's territorial airspace.  Declaring an ADIZ is not by itself illegal because it is not a claim of sovereign control over the airspace.  Of course, nations with an ADIZ usually demand foreign aircraft identify themselves before entering their ADIZ, but nations do not usually claim the right to exclude other nations' aircraft from their ADIZ, as if it was sovereign territory. (For a recent discussion of the legal issues in ADIZ declarations, see here).
Now, since China has usually been careful to avoid crossing into Taiwan's ADIZ (or at least parts of Taiwan's ADIZ), its decision to do so now is interesting and significant.  But it is not a territorial incursion and it is not (technically) breaching "Taiwan's airspace".  So news agencies should be careful not to report it as such.

Topics
Asia-Pacific, Featured, Law of the Sea