RIP, Maximilian Schell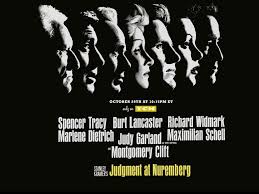 I was very sad to learn that Maximilian Schell died today at age 83. Schell was sensational as the defence attorney, Hans Rolfe, in Judgment at Nuremberg — it was only his second role in a Hollywood movie, and he won an Academy Award for it. An original poster of the film hangs above the desk in my office; I used it as inspiration when I wrote my book on the Nuremberg Military Tribunals. Schell's career, however, went far beyond Judgment at Nuremberg. I had no idea, for example, that he was an accomplished pianist and conductor! Here's a snippet from one of his obituaries:
Despite being type-cast for numerous Nazi-era films, Schell's acting performances in the mid-1970s also won him renewed popular acclaim, earning him a best actor Oscar nomination for "The Man in the Glass Booth" and a supporting actor nomination for his performance alongside Jane Fonda, Vanessa Redgrave and Jason Robards in "Julia."

The son of Swiss playwright Hermann Ferdinand Schell and Austrian stage actress Noe von Nordberg, Schell was born in Vienna on Dec. 8, 1930 and raised in Switzerland after his family fled Germany's annexation of his homeland.

Schell followed in the footsteps of his older sister Maria and brother Carl, making his stage debut in 1952. He then appeared in a number of German films before relocating to Hollywood in 1958.

By then, Maria Schell was already an international film star, winning the best actress award at the 1954 Cannes Film Festival for her performance in "The Last Bridge."

Maximilian made his Hollywood debut in Edward Dmytryk's "The Young Lions," a World War II drama starring Marlon Brando, Montgomery Clift and Dean Martin.

Schell later worked as a producer, starting with an adaptation of Franz Kafka's "The Castle," and as a director.
Rest in peace, Maximilian Schell. Yours was truly a life well lived.
http://opiniojuris.org/2014/02/01/rip-maximilian-schell/
2 Responses
Trackbacks and Pingbacks
There are no trackbacks or pingbacks associated with this post at this time.