ICC Breaks Ground on Its Permanent Home
So reports the Kuwait News Agency. The building is expected to be completed in late 2015. Here is the winning design: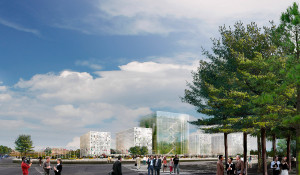 You can read more about the design, and see more artists renderings, here. It's not a bad design, but it's a bit too high-modernist for my taste. I preferred the one by Wiel Arets Architects & Associates that won third prize in the ICC's competition. You can find it here.
How the financially-strapped Court is paying for its fancy new digs — which are expected to cost 190,000,000 euros — is anyone's guess.
http://opiniojuris.org/2013/04/17/icc-breaks-ground-on-its-permanent-home/
2 Responses
Trackbacks and Pingbacks
There are no trackbacks or pingbacks associated with this post at this time.