ATS Kiobel Post-Argument Discussion
I realize this should have gone to our announcements section, but it seems well worth flagging.  As OJ readers are probably aware, the Kiobel case is being re-argued today in the Supreme Court.  Tomorrow my law school, Washington College of Law, American University, in DC, is holding a post-argument discussion with some stellar folks – Paul Hoffman (lead counsel for plaintiffs), Katie Redford (Earthrights International), John Bellinger (former DOS Legal Adviser and Arnold & Porter partner), and Andrew Grossman (Heritage Foundation).  WCL's own Steve Vladeck will moderate.  The event will also be live-streamed.
Tuesday, October 2, 12-1:20, lunch included, and CLE credit available.  Registration required.  The flyer with online registration information is below the fold.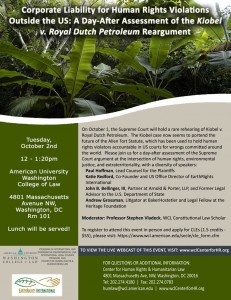 http://opiniojuris.org/2012/10/01/ats-kiobel-post-argument-discussion/
2 Responses
Trackbacks and Pingbacks
There are no trackbacks or pingbacks associated with this post at this time.