Legislative Fixes to the Problem of Executing Terrorist Judgments Against Iran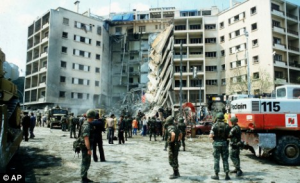 Having followed the terrorism litigation against Iran for years, I was fascinated to read of the recent legislation—Section 502 of the Iran Threat Reduction and Syria Human Rights–that creates a legislative fix for victims of one particular group of terrorist victims but not thousands of others.
The law in question grants plaintiffs/judgment creditors in one and only one case—Peterson v. Iran—the right to attach Iranian assets held in the United States, notwithstanding any other provision of law, including sovereignty immunity laws and laws recognizing the separate corporate identities of Iranian government entities.
As reported by Basil Katz of Reuters here, the case involves a $2.65 billion damage award obtained by the victims of Beirut Marine Corps barracks in 1983. The U.S. Treasury discovered $1.75 billion in a Citibank account that was deposited by Clearstream, an entity that holds Iranian funds in Luxembourg potentially subject to attachment.
There are several interesting wrinkles to this case.
First, it certainly is not clear that the $1.75 billion held at Citibank are Iranian assets held in the United States. Clearstream is arguing precisely that. The statute gets around this problem by broadly defining what constitutes an Iranian asset held in the United States. According to the statute, such an asset is one that is:
"(A) held in the United States for a foreign securities intermediary doing business in the United States, (B) a blocked asset [defined as those involving Peterson v. Iran] … and (C) equal in value to a financial asset of Iran, including an asset of the central bank or monetary authority of the Government of Iran or any agency or instrumentality of that Government, that such foreign securities intermediary or a related intermediary holds abroad."
In other words, if a third party financial institution holds Iranian assets abroad, and also holds the equivalent amount in the United States, that money is a financial asset subject to attachment by the Peterson claimants.
Second, the statute supersedes "any other provision of law, including any provision of law relating to sovereign immunity, and preempting any inconsistent provision of State law." Thus, the normal rules under the FSIA regarding immunity from jurisdiction or enforcement simply do not apply to the Peterson claims against Iran. The same goes for the Algiers Accords, which obligate the United States to transfer all Iranian assets held in the United States.
Nor do the normal rules apply with respect to the separate corporate identities of Iranian government entities. Clearstream's financial assets held in Luxembourg belong to Bank Markazi (a.k.a. the Central Bank of Iran). But the statute defines "Iran" as "the Government of Iran, including the central bank or monetary authority of that Government and any agency or instrumentality of that Government."
Third, the statute appears to privilege one group of victims to the exclusion of others. As most of our readers know, U.S. courts have awarded billions of dollars in judgments to thousands of victims of Iranian terrorism. Of all the acts of Iranian terrorism—the bus bombings in Jerusalem and suicide bombings at shopping malls in Tel Aviv, the targeted assassinations of Iranian dissidents in Paris, the victims of the Khobar Towers bombings in Saudi Arabia—why does this one group of victims deserve special statutory protection while the other victims do not?
The pragmatic answer, of course, is that counsel for the Peterson family was able to secure a legislative fix that other victims could not. That hardly appears satisfactory given the stakes involved. Frankly, there is something unseemly about a statute that so clearly privileges one set of terrorist victims at the expense of others.
The Reuters report suggests that there is an agreement between the Peterson victims and the other victims to share any judgments recovered, but it provides no details. Such a contractual solution is somewhat encouraging, but I seriously doubt that the other terrorist victims/judgment creditors will stand on an equal footing as the Peterson family based on this agreement. They, after all, have no leverage other than moral suasion.
Section 502 does state that a court must determine that "no other person possesses a constitutionally protected interest in the assets described in subsection (b) under the Fifth Amendment to the Constitution of the United States." It's not clear whether this refers to the Takings Clause—which seems likely—or to other clauses, such as the Due Process Clause prohibiting deprivations of life, liberty or property without due process of law. Regardless, I fail to see how the other victims of Iranian terrorism could fall within that exception.
Who knows where all this is headed. Litigation of this $1.75 billion dollar question is pending in New York. I will keep you posted.
http://opiniojuris.org/2012/09/06/legislative-fixes-to-the-problem-of-executing-terrorist-judgments-against-iran/
6 Responses
Trackbacks and Pingbacks
There are no trackbacks or pingbacks associated with this post at this time.