Chart of the Day — Paid Leave and Paid Holidays in OECD Countries
Courtesy of the European Trade Union Institute.  I have no significant commentary to add, other than to say that I'm glad I live outside of the U.S.  Here is the chart: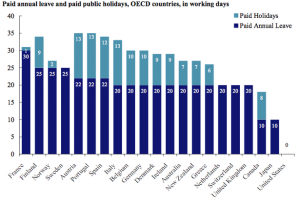 Hat-tip: The Atlantic.
http://opiniojuris.org/2012/07/08/chart-of-the-day-paid-leave-and-paid-holidays-in-oecd-countries/
7 Responses
Trackbacks and Pingbacks
There are no trackbacks or pingbacks associated with this post at this time.