Nobel Laureates "Unite in Sisterhood to Turn our Tears into Triumph"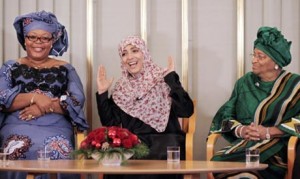 Nobel Peace Prize Laureates Ellen Johnson Sirleaf, Leymah Gbowee, and Tawakkol Karman delivered their Nobel Lectures today in Oslo.
It was a great day of celebration for the cause of gender equality and democracy. You should read all three lectures in their entirety to give you the full picture of what transpired. The common theme was the power of women to transform the world in the face of injustice and oppression.
The two Liberian Laureates spoke triumphantly of their victory against injustice in Liberia, while the Yemeni Laureate–the youngest Nobel Peace Laureate in history–spoke confidently of a new emerging Arab spring.
After watching the festivities live, I am confident that all three women will do great honor to the Nobel Peace Prize.
Here's a few choice excerpts from the Nobel Lectures:
Peace within one country is no less important than peace between countries. War is not just a conflict between states. There is another type of war, which is far more bitter, that is the war of despotic leaders who oppress their own people. It is a war of those to whom people have entrusted their lives and destinies, but who have betrayed that trust. It is a war of those to whom people have entrusted their security, but who directed their weapons against their own people. It is the war which today people face in the Arab States.

At this moment, as I speak to you here, young Arab people, both women and men, march in peaceful demonstrations demanding freedom and dignity from their rulers. They go forward on this noble path armed not with weapons, but with faith in their right to freedom and dignity. They march in a dramatic scene which embodies the most beautiful of the human spirit of sacrifice and the aspiration to freedom and life, against the ugliest forms of selfishness, injustice and the desire to hold on to power and wealth.

Peace does not mean just to stop wars, but also to stop oppression and injustice. In our Arab region, there are brutal wars between governments and peoples. Human conscience cannot be at peace while it sees these young Arab people, who are in the age of blossoming, being harvested by the machine of death which is unleashed against them by the tyrants. … [O]ur oppressed people have revolted declaring the emergence of a new dawn, in which the sovereignty of the people, and their invincible will, will prevail. The people have decided to break free and walk in the footsteps of civilized free people of the world.
There is no doubt that the madness that wrought untold destruction in recent years in the Democratic Republic of Congo, in Rwanda, in Sierra Leone, in Sudan, in Somalia, in the former Yugoslavia, and in my own Liberia, found its expression in unprecedented levels of cruelty directed against women.

Although international tribunals have correctly declared that rape, used as a weapon of war, is a crime against humanity, rapes in times of lawlessness continue unabated. The number of our sisters and daughters of all ages brutally defiled over the past two decades staggers the imagination, and the number of lives devastated by such evil defies comprehension.

Through the mutilation of our bodies and the destruction of our ambitions, women and girls have disproportionately paid the price of domestic and international armed conflict. We have paid in the currencies of blood, of tears, and of dignity….

Yet, there is occasion for optimism and hope. There are good signs of progress and change. Around the world, slowly, international law and an awareness of human rights are illuminating dark corners, in schools, in courts, in the marketplace. The windows of closed chambers where men and women have been unspeakably abused are being opened, and the light is coming in. Democracies, even if tentatively, are taking root in lands unaccustomed to freedom.
This prize … has come at a time when in many societies where women used to be the silent victims and objects of men's powers, women are throwing down the walls of repressive traditions with the invincible power of non-violence. Women are using their broken bodies from hunger, poverty, desperation and destitution to stare down the barrel of the gun. This prize has come at a time when ordinary mothers are no longer begging for peace, but demanding peace, justice, equality and inclusion in political decision-making.

I must be quick to add that this prize is not just in recognition of the triumph of women. It is a triumph of humanity. To recognize and honor women, the other half of humanity, is to achieve universal wholeness and balance… "Rape and abuse is the result of larger problem, and that problem is the absence of women in the decision making space." If women were part of decision-making in most societies, there would be less exclusive policies and laws that are blind to abuses women endure….

We must continue to unite in sisterhood to turn our tears into triumph, our despair into determination and our fear into fortitude. There is no time to rest until our world achieves wholeness and balance, where all men and women are considered equal and free.
http://opiniojuris.org/2011/12/10/nobel-laureates-unite-in-sisterhood-to-turn-our-tears-into-triumph/