04 Feb

Olive Oil Update – Prices on the Rise

I posted a few weeks ago about the scandalous situation of adulterated Extra Virgin Olive Oil (EVOO) exported from Italy, Greece, and Spain.  Here is an update on the international olive oil market from Ed Dolan of EconoMonitor.  He reports that cold weather in Spain, followed by drought, has shrunk the Spanish harvest:
There is little doubt about what is happening on the supply side of the market: The weather in Spain, the world's largest producer, was unusually bad last year. In the spring, an unexpected frost damaged the trees just as they were blossoming. Summer brought a prolonged drought. By December, which should be the height of the 2012/13 harvest, the Spanish crop was coming in at just 44 percent of the year before.

The harvest has been better elsewhere, but … Spain so dominates the world market that no one else can really make up the loss. Tunisia is trying. The fifth largest producer and fourth largest exporter, its production is expected to rise by 27 percent in the 2012-13 season. California will also have a good year. Growers there hope to reach 3 percent of world output this year, up from the 1 percent or less reported by the FAO for 2011. But none of that is going to go far in replacing the hundreds of thousands of tons of lost Spanish production.
Dolan also notes that demand over the long run is sharply on the rise.  The US consumer market is embracing EVOO as a healthy oil, and Brazil and China are seeing strong increases in demand over time.  Long term, demand is healthy and rising.  (Lest anyone doubt this, Dolan reports that Wrangler jeans has introduced a line of "olive-oil infused jeans" to moisturize the wearer's legs while wearing.)  Production is up in other places – California, Tunisia and Morocco, South Africa, Chile, Australia, and New Zealand – all of which produce some very fine EVOO.  However, Spain so dominates production today that for the short term, expect price hikes for all olive oil, as evidenced in this olive oil futures chart (click for larger version):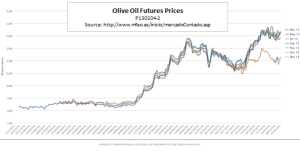 One thing Dolan does not address is the effect of these supply and demand factors on the nasty little secret of this burgeoning market – adulteration of EVOO, as discussed in my earlier post.  We can make some guesses, however.  One is that the constriction of supply is going to push more adulteration, whether with lesser grades of olive oil or simply other oils such as cottonseed. If that does not become widely known then it might actually entrench adulteration even more as the norm. (If that's possible, given that some officials in the EU suggest that 50% of the EVOO-labelled oil is actually adulterated with either lesser grades or non-olive oil.  The chances that an "Italian" oil you buy even at Whole Foods or Trader Joe's in the US is pure EVOO is likely not better than 50%, and any any case, the export rules allow Italian packers, for example, to import oil from Spain or Greece, or outside the EU, such as Morocco, package it with a pretty Tuscan villa on the label, and sell it as Italian, according to Tom Mueller's book, as I discussed in my earlier post. The losers in this game are the artisanal EVOO producers in Italy and Spain, who do produce the pure and much more expensive stuff, but can't get clear identification and differentiation of their products in the export market.)
Many consumers are not likely to care, interestingly – at least, not if the consequence of enforcing the purity standard meant that the price of real EVOO went up a lot, as it would have to absent adulteration.  Those who do care are tending to shift to trusted sources, which often means shortening the supply chain. In my case, that means shifting to California EVOOs (as a Californian who has been in exile his adult life, I have a sentimental interest as well) – there are in fact sources I trust in Italy and Spain. Australia and New Zealand have much more trustworthy systems of labeling EVOO and certifying it than Europe these days, I sorrow to say. And all these places produce many superb EVOOs.  But one has to be prepared to pay for it, both because of the spike in prices due to the poor Spanish harvest – but also because if you want the real stuff, it's going to cost you more.

Topics
General, Trade & Economic Law