CUP Reverses Its Decision to Censor China Articles (Updated)
Here is CUP's statement: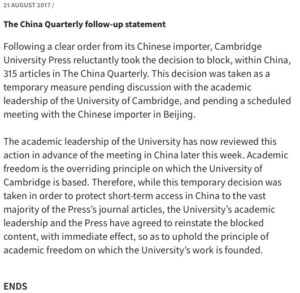 Kudos to CUP for doing the right thing. And kudos to everyone — including Jan Klabbers — who took a public stand against CUP's capitulation to Chinese pressure.
UPDATE: True to form, China is now censoring news of CUP's decision not to censor!
http://opiniojuris.org/2017/08/21/cup-reverses-its-decision-to-block-china-articles/
One Response
Trackbacks and Pingbacks
There are no trackbacks or pingbacks associated with this post at this time.