23 Jul

Self-Aggrandizement Alert: Two New Publications

I'm delighted to announce the publication of two new essays. The first is "The Use and Abuse of Analogy in IHL," which is a chapter in Jens's edited book for CUP, "Theoretical Boundaries of Armed Conflict and Human Rights."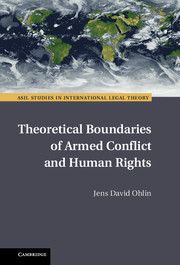 I'm very proud of the essay — and all of the contributions to the book are excellent.
The second publication is my article "Radical Complementarity," which has just appeared in the Journal of International Criminal Justice. Here is the abstract:
In March 2015, a domestic court in Côte d'Ivoire sentenced Simone Gbagbo to 20 years in prison for disturbing the peace, organizing armed gangs and undermining state security — a sentence considerably longer than any sentence imposed by the International Criminal Court (ICC) and twice as long as the Ivorian prosecutors requested. The Court has nevertheless held that Gbagbo's case remains admissible, because her domestic prosecution was not based on the same conduct as the conduct underlying the crimes against humanity charges issued by the Office of the Prosecutor. This article argues that the Court's decision in Simone Gbagbois inconsistent with the principle of complementarity. Section 1 criticizes the Court's jurisprudence concerning Article 17's 'same person' requirement, arguing that the test the judges use to determine whether a state is investigating a particular suspect is both inconsistent with the ICC Statute and far too restrictive in practice. Section 2 explains why the 'same conduct' requirement is antithetical to the goals underlying complementarity and should be rejected as a matter of law. The article thus defends what we might call 'radical complementarity': the idea that as long as a state is making a genuine effort to bring a suspect to justice, the ICC should find his or her case inadmissible regardless of the conduct the state investigates or the prosecutorial strategy the state pursues.
The published version differs substantially from the one I posted a while back on SSRN. You can find the article here.

Topics
International Criminal Law, International Human Rights Law