01 Nov

Academic BDS and Individual Israeli Scholars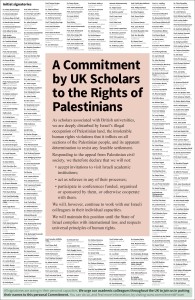 I've received a few emails over the past couple of days wondering why I have not joined the now 500 scholars at UK universities who have pledged to boycott Israeli universities. The answer is that although I wholeheartedly support BDS in its economic and cultural forms, I am much more ambivalent about academic BDS. I agree with the boycotters that Israeli universities are deeply complicit in Israel's systematic oppression of Palestinians. I'm fully aware that the too many Israeli academics either support that oppression or at least generally remain silent about it. And I know that most people who criticise academic BDS on "academic freedom" grounds could not care less about the academic freedom of Palestinians. But I simply cannot get past my belief that the boycott, at least as it is currently structured, is unfair to the (unfortunately small) number of Israeli academics who are brave enough to speak out against Israel's policies.
To be sure, those who support the boycott insist that it targets Israeli universities, not individual Israeli scholars. The statement by the UK academics, for example, says that they will "continue to work with our Israeli colleagues in their individual capacities." Similarly, the PACBI Guidelines for the International Academic Boycott of Israel provide that "[m]ere affiliation of Israeli scholars to an Israeli academic institution is… not grounds for applying the boycott" and clearly notes that Israeli academics can use their individual research budgets "in support of academic activities, such as attendance of international conferences and other academic events," as long as they do not have to acknowledge that their funding comes from an Israeli institution.
I'm glad that the UK academics and PACBI are sensitive to the distinction between Israeli universities and Israeli scholars. But I still think the PACBI guidelines (which the UK statement endorses) harm Israeli scholars, including those that are critical of Israel, to an extent that makes it impossible for me to endorse academic BDS. Here, in relevant part, is what Guideline 10 prohibits (emphasis in original):
10. Serving as external reviewers for dissertations, writing recommendations or other forms of refereeing such as advising on hiring, promotion, tenure, and grant-making decisions at Israeli universities. International academics who choose to review the academic work of faculty or students at Israeli universities on a personal basis are not conflicting with the boycott guidelines, so long as their names are not used by those universities in any way (to gain legitimacy). Accepting to be on a dissertation, referee or review committee appointed by or serving an Israeli university, however, directly conflicts with the institutional boycott of these universities, as it legitimates Israel's academic standing around the world. The boycott also applies to writing tenure or promotion recommendations addressed to university administrators.
I fail to see how  these restrictions target Israeli academic institutions, not individual Israeli scholars. If a left-wing Israeli scholar is already a full professor, academic BDS will not have a profound impact on her career. But any scholar is who is more junior is directly harmed by Guideline 10. If I supported academic BDS, I could not co-supervise a PhD student at an Israeli university or serve as her external examiner. Once she obtained her PhD, I could not help her get a job at an Israeli university. And after she became a lecturer, I could not write a letter on her behalf advocating her promotion or tenure.
These restrictions could easily be fatal to the career of a left-wing Israeli scholar — especially a more junior one. Given Israel's increasing suppression of even the most tepid criticism of its policies, including (yes) by University administrations, it is unlikely that such a scholar will find many senior Israeli academics willing to supervise her dissertation, help her get a job in the Israeli academy, or support her promotion and tenure. And Guideline 10 prohibits non-Israeli scholars from providing her with that support. So the young Israeli scholar will end up facing a difficult choice: either find a PhD program or academic position overseas — which she may not be able to do, whether for family/financial reasons or because she wants to fight for change from within Israel — or abandon an academic career.
That's troubling enough, but the systemic effects of academic BDS on the presence of left scholars in the Israeli academy are even more troubling. Academic BDS obviously has no effect on young right-wing scholars, who already outnumber their left-wing counterparts. Young right-wing scholars will have no problem finding more senior Israeli and non-Israeli scholars to supervise their dissertations, help them get jobs, and support their promotion and tenure. So academic BDS will simply ensure that, over time, then, left-wing scholars become more scarce in Israeli universities while right-wing scholars become ever more common.
Perhaps that's okay. Perhaps the need to pressure Israel to change its policies is worth preventing left-wing Israelis from pursuing academic careers and ensuring that the Israeli academy becomes even more right-wing than it already is. If so supporters of academic BDS should say so openly, instead of claiming that the boycott doesn't affect individual Israeli scholars. It does — which is why I can't support it.
Topics
International Human Rights Law, Middle East