01 Aug

Congratulations to Anna Dolidze!

Anna, who has guest-blogged for us in an academic capacity on a number of occasions (see here, here, and here), has just started a new job as Georgia's Deputy Minister for Defence. See if you can spot her in this photo: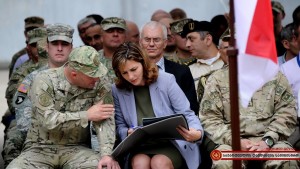 Heartfelt congratulations to Anna. Academia's loss is Georgia's gain. I have no doubt that she will do exemplary work on behalf of her country.
Topics
General