17 Jan

Make Sure to Bring This Visual Aid When You Navigate to the Louvre

Sorry, Lonely Planet, there's a new travel sheriff in town: Fox News. Witness this map, created by a guest on Fox & Friends to illustrate the eight "no-go" zones — areas under de facto Muslim control — in Paris (out of 741 in France itself):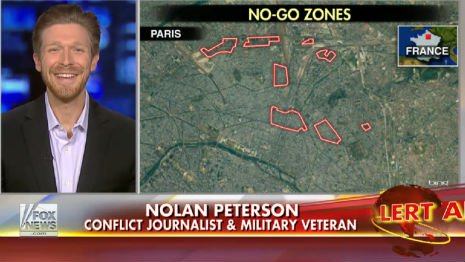 Peterson, a former Air Force pilot, went on to describe Paris as "pretty scary" and compared it to Afghanistan, Iraq, and Kashmir. And the Fox & Friends host — an animatronic human being, model name "Elisabeth Hasselbeck" — simply nodded her head knowingly throughout his presentation.
To be fair, this kind of willful ignorance does have an upside: it makes people who watch Fox News much less likely to visit Paris. That's good for all of us. In fact, the more Fox News viewers think of Europe in general as some kind of 70s-style Soviet hellhole, the better.
(Another upside: I'm supposed to be in Paris in a couple of months. After I get my traditional falafel on the Rue des Rosiers, I'm adding "conflict journalist" to my CV.)
H/T: Richard Metzger at Dangerous Minds. Make sure to read his post to see the hysterically funny French reaction to Peterson's segment.
Topics
Europe, International Human Rights Law