JFK: Keeping the World Safe for Santa
Courtesy of Chris Moody, here is an actual letter written by John F. Kennedy in 1961 to a little girl in Michigan: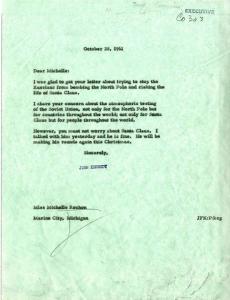 Santa Claus has always seemed a bit communist to me. More of the Vietnamese or Chinese nationalist variety, I guess.
Happy holidays, everyone!
http://opiniojuris.org/2014/12/23/jfk-keeping-world-safe-santa/
One Response
Trackbacks and Pingbacks
There are no trackbacks or pingbacks associated with this post at this time.