14 Oct

Panel at George Mason on the ICC and Palestine

I will be participating next week in what should be an excellent event at George Mason University on the ICC and Palestine. The other participants are all excellent — David Luban, Meg DeGuzman, George Bisharat, and the organizer, Noura Erakat. Here is the flyer: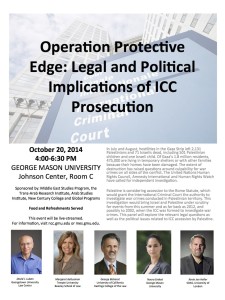 I hope at least some Opinio Juris readers will be able to attend and hear my dire prognostications in person. (If you do, make sure to come say hello.) The event will be live-streamed for those that do not live nearby.

Topics
Events, Foreign Relations Law, International Criminal Law, International Human Rights Law, Middle East, National Security Law, Organizations