The Legal Systems of the World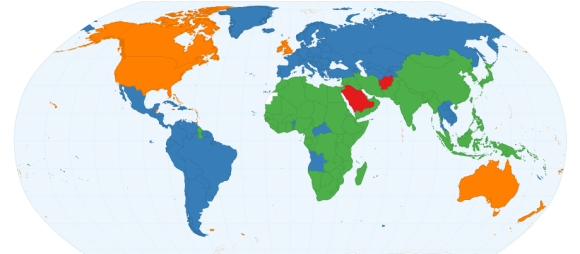 In case you ever wanted a snapshot of the legal systems of the world, this handy chart is worth a look. If you follow the link you can get a brief explanation of the legal system of each country, including the historical roots. The orange is common law, the blue civil law, the green mixed, and the red Muslim law.
The biggest surprise from this chart is how many countries are identified as mixed systems. I would have thought that most former British colonies would be identified as common law countries, that most former French, Spanish or Dutch colonies would be identified as civil law, and that most Middle Eastern countries would be identified as Muslim. Not so. The overwhelming majority of nations in Africa, the Middle East, and Asia are mixed systems.
UPDATE: In light of the comments, I have posted a new set of charts that more accurately depicts the legal systems of the world.
http://opiniojuris.org/2013/01/28/the-legal-systems-of-the-world/
6 Responses
Trackbacks and Pingbacks
There are no trackbacks or pingbacks associated with this post at this time.