20 Aug

New Google Tool for Visualizing the Arms Trade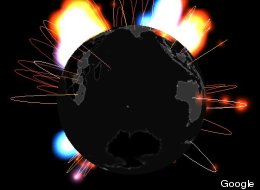 Fresh off the failure of the Arms Trade Treaty — aka The UN's Secret Plan to Disarm the Defenders of Freedom and Enslave Mankind — Google has released an amazing new tool that maps global flows of light weapons and ammunition.  Here is how the Huffington Post describes the tool:
The Peace Research Institute Oslo (PRIO), a Norwegian initiative focused on the dealing of small arms, provided information for the undertaking, including "[m]ore than 1 million data points on imports and exports […] across 250 states and territories," according to a post on the Google Blog. The project was developed by Google's Creative Lab and the Brazil-based Igarape Institute.

The tool allows the user to search by country and view where imports come from and where exports go each year; it also shows how much each country spends and receives as a result of this trade. Civilian and military purchases are displayed as well. (Note: The Google Blog defines "light weapons" as revolvers, assault rifles and light machine guns. The blog also states that "three quarters of the world's small arms lie in the hand of civilians — more than 650 million civilian arms.")
I really want to hate Google for its cavalier attitude toward privacy.  Projects like this one don't make it any easier.
Topics
International Human Rights Law, Trade & Economic Law