Mitt Romney Is Learning Geography from Fox News
At Wednesday's debate, Mitt Romney claimed that one of the reasons Iran supports the Syrian government is that Syria is Iran's "route to the sea."  Hmm: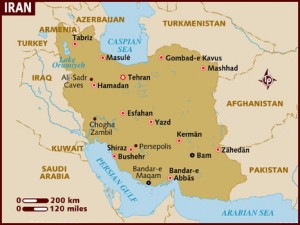 Where's Syria?  Oh, yeah, it's off to the left — past Iraq. And what's that funny blue thing to the south of Iran?  Could it be… water?
Take it away, Emily Heil at the Washington Post: "Iran has direct access to waterways, thank you very much, with some 1,520 miles of coastline along the Arabian Sea. It doesn't even share a border with Syria, so this 'route to the sea' that Romney spoke of would involve cutting through Iraq (rugged terrain!) before cutting through Syria to get to the sea. The journey from Tehran to Damascus is about 1,000 miles."
We'd be in good hands with President Romney.
http://opiniojuris.org/2012/02/24/mitt-romney-is-learning-geography-from-fox-news/
4 Responses
Trackbacks and Pingbacks
There are no trackbacks or pingbacks associated with this post at this time.