Marines Don't Know Who the SS Were?
By now, most readers have probably seen the following photo, in which Marine snipers in Afghanistan pose in front of a flag with the runes of the SS: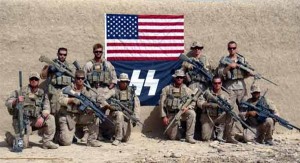 I wasn't planning on blogging about the photo, because the insensitivity of the snipers and the awfulness of the symbolism speak for themselves. But then I saw this ridiculous statement by a Marine spokesman (my emphasis):
"We don't believe these Marine Corps snipers had a historical appreciation for what this symbol meant," the official said. "As soon as leadership was made aware of it, they took action at the unit level and then passed that information throughout the sniper community and to those snipers serving in Afghanistan."
Seriously? Do Marines literally get no training in military history before they are shoved into combat? Were there no officers in the unit who went to Annapolis? World War II was kind of a big one for the U.S., and I seem to recall the SS playing a part in it. Are we really supposed to believe that none of the snipers has ever seen a World War II movie?
As an aside, our old friend David Bernstein has been all aflutter lately about a tiny number of bloggers using the term "Israel-Firsters" to describe American Jews who put Israel's interests ahead of the United States', because the term has an anti-Semitic history.  So far, no word whether he has a problem with the Marines invoking the genocidal legacy of the SS…
http://opiniojuris.org/2012/02/10/marines-dont-know-who-the-ss-were/
12 Responses
Trackbacks and Pingbacks
There are no trackbacks or pingbacks associated with this post at this time.