07 Feb

A Blogging Hiatus and a Book

Although I've blogged with Opinio Juris for more than six years now, I would never describe myself as a frequent blogger; at my best, I'll give you 2 posts a week, more often just one.  Of late, however, my blogging has been even more sporadic. Here's the reason: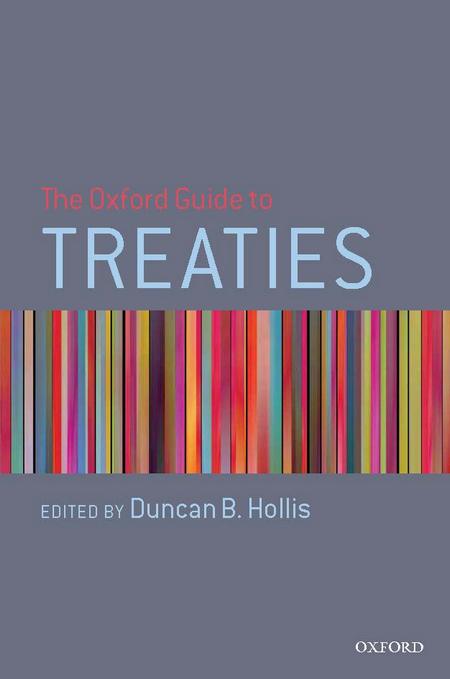 After more than two years of work, of which the last 3 months were particularly intense, I submitted a draft manuscript for The Oxford Guide to Treaties to OUP at the end of January. The Guide is designed to be a comprehensive and current overview of treaty law and practice for academics and practitioners alike. It combines 25 chapters on all the basic issues that arise in treaty-making, (including formation, application, interpretation and exit) with a survey of common treaty clauses, including 350 examples from existing treaties. The book is due in print this summer, but feel free to pre-order your copy now.  I'm sure I'll blog about it more in the coming months (as well as a few treaty-related issues I picked up along the way).  For now, however, I'd love reader feedback on the proposed cover above.
And for those of you who want more details on the project itself, a table of contents follows the jump.
The Oxford Guide to Treaties

Contents

Introduction  – Duncan B Hollis

I. Foundational Issues

Chapter 1: Defining Treaties – Duncan B Hollis

Chapter 2: Alternatives to Treaty-Making – MOUs as Political Commitments – Anthony Aust

Chapter 3: Who Can Make Treaties? International Organizations – Olufemi Elias

Chapter 4: Who Can Make Treaties? The European Union – Marise Cremona

Chapter 5: Who Can Make Treaties? Other Subjects of International Law – Tom Grant

Chapter 6: NGOs in International Treaty-Making – Kal Raustiala

II. Treaty Formation

Chapter 7: Making the Treaty – George Korontzis

Chapter 8: Treaty Signature – Curtis A Bradley

Chapter 9: Provisional Application of Treaties – Robert E Dalton

Chapter 10: Managing the Process of Treaty Formation – Depositaries & Registration – Annebeth Rosenboom and Arancha Hinojal-Oyarbide

Chapter 11: Treaty Reservations – Edward T Swaine

III. Treaty Application

Chapter 12: The Territorial Application of Treaties– Syméon Karagiannis

Chapter 13: Third Party Rights & Obligations in Treaties – David J Bederman

Chapter 14: Treaty Amendments – Jutta Brunnée

Chapter 15: Domestic Application of Treaties – David Sloss

Chapter 16: State Succession in Respect of Treaties – Gerhard Hafner & Gregor Novak

Chapter 17: Treaty Bodies and Regimes – Geir Ulfstein

Chapter 18: Treaty Conflicts and Normative Fragmentation – Christopher J Borgen

IV. Treaty Interpretation

Chapter 19: The Vienna Convention Rules on Treaty Interpretation – Richard Gardiner

Chapter 20: Specialized Rules of Treaty Interpretation – International Organizations – Catherine Brölmann

Chapter 21: Specialized Rules of Treaty Interpretation – Human Rights – Başak Çali

V. Avoiding or Exiting Treaty Commitments

Chapter 22: The Validity and Invalidity of Treaties – Jan Klabbers

Chapter 23: Reacting against Treaty Breaches – Bruno Simma and Christian J Tams

Chapter 24: Exceptional Circumstances and Treaty Commitments – Malgosia Fitzmaurice

Chapter 25: Terminating Treaties – Laurence R Helfer

VI. Treaty Clauses

Initial Decisions on Treaty-Making

1. Distinguishing Political Commitments from Treaties

2. Object and Purpose

3. Participation Conditions for States

4. Participation Conditions for Non-State Actors

5. NGO Involvement

Conditions on Joining a Treaty

6. Consent to be Bound

7. Reservations

8. Declarations and Notifications

Constituting the Treaty and its Dissemination

9. Languages

10. Annexes

11. Entry into Force

12. The Depositary

Applying the Treaty

13. Provisional Application

14. Territorial and Extraterritorial Application

15. Federal States

16. Relationships to Other Treaties

17. Derogations

18. Dispute Settlement

Amendments

19. Standard Amendment Procedures

20. Simplified Amendment Procedures

The End of Treaty Relations

21. Withdrawal or Denunciation

22. Suspension

23. Duration and Termination

Topics
General