Colonel Sanders at the United Nations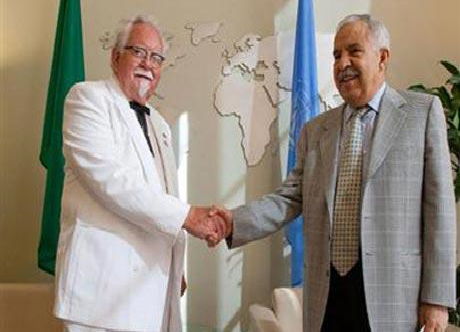 With the kerfuffle over the White House gate-crashing gaining all the attention, another flap over gate crashing is flying below the radar. It appears that Colonel Sanders of Kentucky Fried Chicken fame returned from the dead to meet with Ali Treki, President of the United Nations General Assembly. As reported here:
A spokeswoman for Ban Ki-moon, the UN secretary-general, yesterday said that an investigation had been launched into the security breach, which was dreamed up by KFC as a promotional stunt. "It should not have happened – that I will stress, and very strongly," Michele Montas told Canwest News Service, the Canadian news agency. "There was some lapse in security and the individual in question was, on the initiative of one security guard, taken into the UN."
The United States introduced a resolution before the Security Council to sanction KFC for action that threatened international peace and security, but the resolution was blocked by the French ambassador Gérard Araud.
A KFC spokesman stated that the company had no idea how Colonel Sanders was able to return from the dead or why he chose to visit the United Nations, given that everybody who was anybody was at the Indian State Dinner in Washington.
Colonel Sanders insisted that he did not crash the United Nations. "I was invited, not crashed. There isn't anyone that would have the audacity to return from the dead and try to crash the United Nations. I think the public is going to be extremely surprised when the details come out."
http://opiniojuris.org/2009/12/01/colonel-sanders-at-the-united-nations/
4 Responses
Trackbacks and Pingbacks