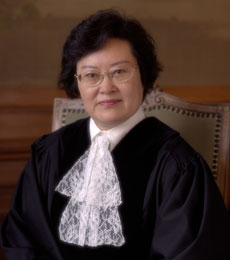 [This Post has been updated]. One of the main benefits of attending a conference (rather than just reading descriptions of its proceedings), is the chance to have face-to-face exchanges with individuals you normally never get a chance to meet.  One of the unusual aspects of the Asian Society of International Law is that it draws lawyers from many different Asian countries, even Asian countries locked into disputes with each other.  Like the Philippines…and China.
Which is why I was so pleased to witness a frank exchange last week at AsianSIL's biennial conference in New Delhi, India between two unofficial but influential representatives of each country's legal positions in the upcoming Philippines-China UNCLOS arbitration. In one corner, Prof. Harry Roque from the University of the Philippines presented a relatively even description of the Philippines' claim against China during a panel on the Law of the Sea in Asia (click here for his blogging on this same event).  In the other corner, was Judge Xue Hanqin, China's member of the International Court of Justice.  Although she was not listed as a panel participant, she stood up after Prof. Roque's presentation to offer a 15-minute extemporaneous defense of China's position.
Judge Xue is no longer officially affiliated with the Chinese government, but she has served in high diplomatic positions before her current post.  One of her prior positions, indeed, was as China's Ambassador to the Association of Southeast Asian Nations (ASEAN) where she was involved in negotiations with Vietnam over maritime rights.  Moreover, she has served a general legal adviser to the Chinese Ministry of Foreign Affairs, including on its submission to the ICJ in the Kosovo advisory proceeding.  Her views are likely to be close or the same as the views of the Chinese government on these issues.  Since the Chinese government has offered almost no official explanation of its legal position, her statement may be the best we will get from China in the near future.[*UPDATE: On the other hand, Judge Xue wants to make clear she is not representing China in any official or unofficial capacity and that she does not endorse the summary of her views below. See below for her full disclaimer].
The following is based on my notes of her presentation. They are necessarily incomplete, but hopefully a fair summary of her views.