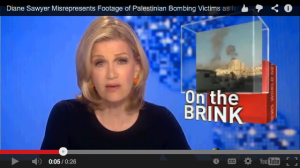 Diane Sawyer had a hard-hitting report tonight at ABC News on the recent hostilities between Israel and Palestine. The segment opens with her saying, "We take you overseas now to the rockets raining down on Israel today as Israel tried to shoot them out of the sky." As she speaks, a video box next to her shows explosions on an urban landscape. Sawyer then shows a still photo of two haggard men carrying clothes in front of a destroyed building and says, "here is an Israeli family trying to salvage what they can."
There's only one problem with Sawyer's report: the explosions are in Gaza, the result of IDF airstrikes, and the men are Palestinian, not Israeli.
Welcome to the mainstream media's even-handed coverage of the Israeli/Palestinian conflict.